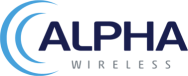 Alpha Wireless designs and manufactures high performance base station antennas for all applications and standards. All antenna designs have optimized radiation patterns which helps to improve overall network performance, and real trials have shown significant throughput and sector capacity improvements.
Alpha prides itself on its expertise and its response times to customer needs, and that's why many of the world's major equipment vendors and operators have chosen Alpha for their antenna projects.

Amphenol Antenna Solutions is a single source for wireless infrastructure offering not only base station antennas, but also transmission line products including RF cable, connectors and jumpers as well as accessories (TMAs, combiners, filters, couplers, repeaters) and RET system components (surge arrestors, Bias-Ts and PDUs).
The company provides a comprehensive suite of solutions for virtually all applications and global frequencies, with product available from the top of the tower to the base station.
Amphenol Procom consist of the former Procom, Jaybeam and Skymasts brands; with manufacturing in Denmark and the UK, Amphenol Procom serve a wide range of market segments such as Public Safety, Aviation, Telecom, Hazardous Environments, IOT, Transportation and Industry. They have more than 7000 products in their portfolio, mainly covering base station antennas, portable & mobile antennas, combiners, filters and DAS solutions.
Eupen's radiating cables, sold under the brand name EUCARAY®, allow very homogeneous, uninterrupted and reliable radio communication in confined areas. EUCARAY® cables offer the best transmission characteristics and are the optimal choice for the needs of modern and demanding radio communication systems as VHF, emergency services (TETRA), railway (GSM-R), mobile radio to LTE (MIMO), WLAN and 5G.
EUCARAY® cables with patented slot design offer first-class transmission characteristics thanks to optimized coupling loss and low longitudinal attenuation.
Radiating cables are usually used where conventional radio communication with antennas is difficult or impossible. Especially in communication systems where an antenna does not provide sufficient coverage or cannot be used due to lack of space. The field of application of radiating cables is therefore often referred to as "confined area". Due to their design and radiation characteristics, the radio coverage of radiating cables is limited to the area in their direct environment.
Typical applications for radiating cables are today road, metro and railway tunnels, mines, buildings and underground car parks, oil platforms, warehouses and logistics centres as well as wind power plants. They are also being used more and more in industrial automation, in aircrafts, in ships, in trains and in control and measurement environments such as clean rooms.

iBwave Solutions is a telecom radio planning software provider that develops solutions for the in-building wireless industry. iBwave is best known for its software iBwave Design, mostly used by telecom operators, system integrators and equipment vendors. iBwave is a Canadian-based company that was founded in 2003 and is headquartered in Montreal.
JMA Wireless is the leading global innovator in mobile wireless connectivity solutions that assure infrastructure reliability, streamline service operations, and maximize wireless coverage and mobile data performance.
In Australia Maser supplies JMA's leading range of compression connectors that dramatically reduce installation time (typically ~1minute), and consistently provides low PIM connectivity that reduces site revisits and increases the RF performance of LTE networks.

Mobile communication means being available anywhere and anytime, using media and having Internet access. Mobile network operators face the challenge of reliably providing needed capacities for the enormous data volumes and Kathrein is the perfect partner for this task.
Kathrein is the world's largest antenna manufacturer and every month around 150,000 mobile communication antenna and filter systems leave their plants, and customers around the world place their trust in Kathrein's technology and quality.
Part of the LIGMAN group of companies, Evolve has been formed to develop world-leading, Smart City – Smart Pole systems that provide our clients with a series of communication enclosure platforms suitable for a combination of Mini-macro, Macro and Small Cell equipment, covering 3G, 4G, 5G and Wi-Fi. The LIGMAN EVOLUTION pole system has been developed to provide utilities and councils with a scalable 4G and 5G distribution platform from which revenues can be generated.
The LIGMAN EVOLUTION pole system consists of a modular design giving the owner the flexibility to install basic infrastructure and add 4G and 5G components as required by telecommunications providers. The EVOLUTION pole system is the most flexible platform developed, with multi-operator capability, whilst allowing for the highest power and thermal density values for telecom equipment on the market.
Multiwave's Smart Aligner System is the most advanced antenna alignment system on the market. Smart Aligner provide convenience, easy portability, and verifiable reporting for antenna alignment, which will increase antenna performance and maintain faster data speeds.
MultiWave Sensors alignment solutions are being used by companies worldwide, including Ericsson, Bechtel Corporation, AT&T, Verizon, Sprint, GOGO and other carriers.
Rancom Wireless and Rancom Fiber Optics Solutions design and manufacture high quality and high performance radio frequency and fibre optic solutions and products, critical to the performance of wire and wireless network offering state of the art industry standard and application-specific designs, covering Antenna solutions including Base station, Omni-directional, DAS and Small Cell. Fibre Optic solutions offering active and passive interconnect solutions, RF & Microwave solutions (sub-6GHz), passive equipment and devices filter and combiners etc and high frequency and high performance RF interconnect solutions 20-130GHz for Military/Aero, RF, EMC and Fibre Optic testing, commercial 5G and automotive applications and finally Industrial Interconnect Solutions.
Rosenberger provides a wide range of standardised and customised connectivity solutions in high-frequency and fiber optic technologies including special test equipment specifically designed for commissioning wireless operator sites.
Maser offers Rosenberger's PIM Analyzers and mobile communication coax and fiber optic site solution products for the complete connectivity of radio base stations – from the BBU/PSU to the RRH and antenna.
Sinclair offers integrated solutions for all your wireless needs. From design through to the manufacturing process they follow the highest standards in quality and innovation. Their products cover greater than 1 GHz, 800 MHz, UHF, VHF, TETRA, 5G and other bands. Whether you are looking for a single antenna or a complete system Sinclair has it all. Sinclair offers more than 2,000 different products including Base Station Antennas, Mobile/Transit Antennas, Covert Antennas, 5G Antennas, Filters, Receiver Multicouplers, and Accessories. Sinclair also specialize in developing custom products and systems as per the customer's unique specifications.
Smarteq develops and delivers high performing, robust and reliable antenna solutions. Smarteq's main customer segments are Energy, Vehicle and Industry (M2M applications). Smarteqs product range has been designed to meet the highest demands in performance and reliability. Their products are often selected by customers with high technical demands (i e rough environments or tough weather conditions) and critical applications where reliability is of high importance.