Tactical Telescopic Masts from Mast System Int'l Oy
Mastsystem Int'l Oy has over 30 years' experience and expertise in manufacturing mast systems.
Mastsystem Int'l Oy masts are designed to meet the most demanding requirements of transportable communications, intelligence, surveillance, reconnaissance and broadcast systems, and are employed whenever there is a need to optimize system performance.
Mastsystem Int'l Oy manufactures seven main product lines: TM-, TR-, EX-, EXL- and EXB-telescopic masts, telescopic lifting poles and tripods including accessories for deployment.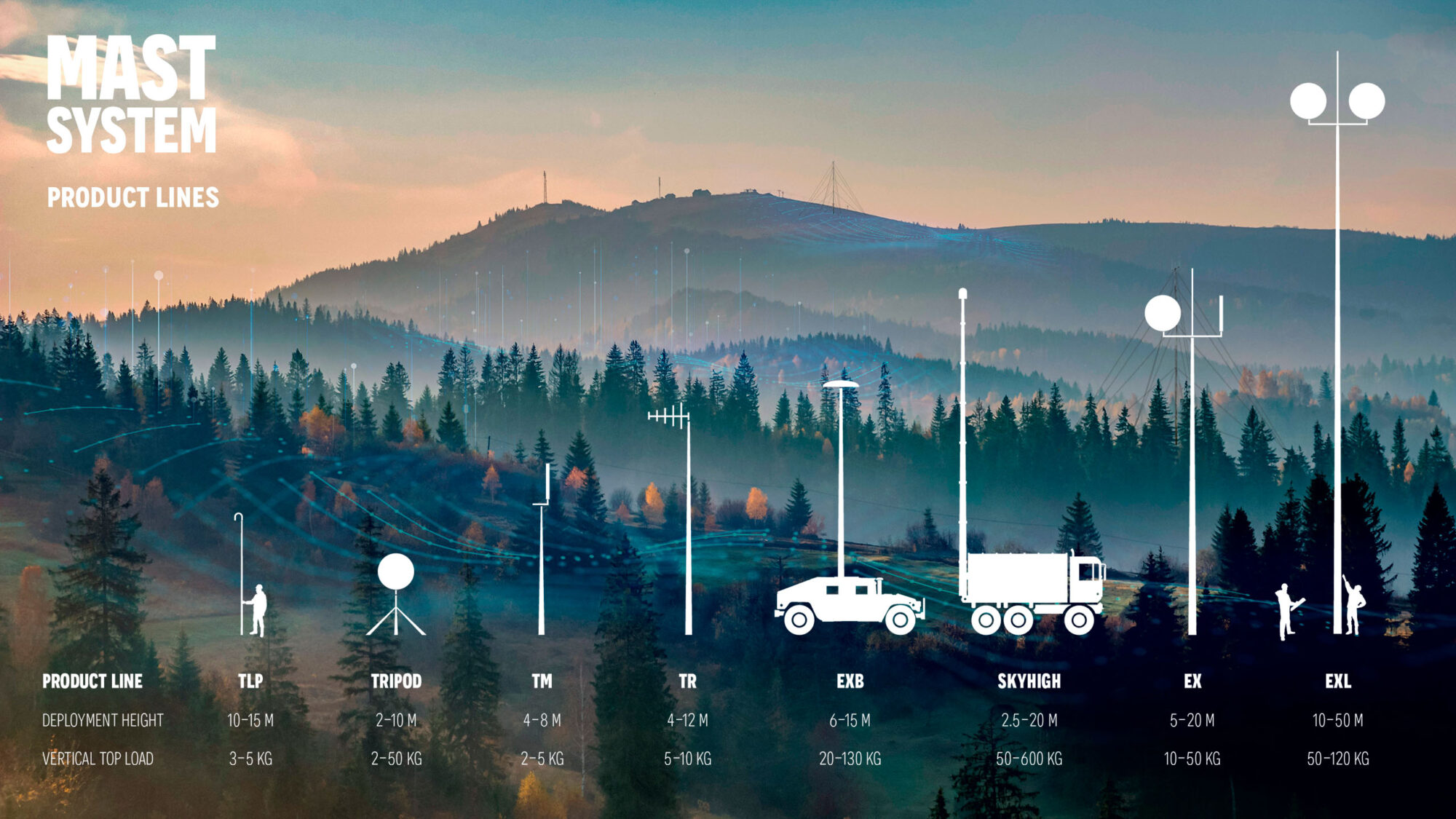 Accessories and Ancillaries
MastSystem Int'l Oy is able to offer a range of standard antenna brackets for different antenna types in various antenna applications.
See More
In addition it has the capability to make a full range of custom-made antenna brackets available according to customer specifications to minimize asymmetrical forces created by gravity and/or wind.
Antenna Pointing Devices reduce the number of masts required for the mission by enabling the combination of antennas
.
See More
Tilters and rotator-tilters are operated remotely from the ground level with maneuvering ropes. The antennas can be mounted directly on the tilter or rotator-tilter top or on antenna specific brackets. Antenna pointing devices are available in all mast colours.
Mast Vehicle Mounting Kits
Mast vehicle mounting kits enable safe mast transportation and quick deployment
.
See More
Vehicle mounting kits are available for vehicles, shelters and containers. Mounting kits enable the use of mast either attached to the vehicle or shelter or as free-standing mast.
The Winch Power Unit (WPU) is an add-on device that is fixed on the winch with two hand screws to replace the crank handle.
See More
The motor unit can be easily and quickly detached in case of power failure to enable manual back up. A circuit breaker together with a mechanical torque limiter protects the motor and mast.
WPU kit consists of an electric motor drive, remote controller and power cable packed in a transportation bag. The motor is controlled with a remote controller. The Winch Power Units voltage options are 24 VDC, 28 VDC, 110 VAC and 230 VAC.
Field Deployable Accessory Kit
Each mast system is supplied with a full field deployment accessory kit.
See More
Mast accessories are designed to enable easy and fast mast deployment in all weather conditions. Accessory kits are packed in green all-weather bags, other colours are available on request. Special user-friendly guy reel design makes tensioning the guys and plumbing the mast quick and easy. Guy ropes are available in polyester or aramid; heavy-duty aramid core guy ropes are durable yet easy to use. Hardened guy stakes are suitable for long term use in a wide variety of ground conditions.
Sydney Head Office
a: 9/15B Rodborough Rd
Frenchs Forest NSW 2086