Cohesity - Reinventing Secondary Data Storage
The only hyperconverged platform designed to consolidate and manage all your secondary data at web scale

"Creating the world's largest online marketplace for professional media, requires an efficient, web-scale data protection solution for our on-line systems", said David Giambruno, CIO of Shutterstock. "Their integrated solution, and easy-to-implement data protection workflows, has made our data protection much simpler, more comprehensive and more reliable. Additionally, the native support of both object and file services within their core platform, will only further simplify our secondary storage environment."
DAVID GIAMBRUNO, CIO
Traditional secondary storage is fragmented and inefficient. It consumes about 80% of enterprise storage capacity as data is copied on average 10 to 12 times across individual storage appliances in support of different use cases like backup, analytics, test/dev, files and objects. To move data to the public cloud, organizations have to deploy yet another silo in the form of a cloud gateway.
Cohesity transforms this complex infrastructure with a simple, elegant solution. Cohesity DataPlatform eliminates secondary storage silos with a single, purpose-built hyperconverged platform. The Cohesity solution enables organizations to cut their total cost of ownership by 80% or more compared to traditional solutions.
Cohesity DataPlatform is the only hyperconverged platform designed to consolidate and manage all your secondary data at web scale – including backups, test/dev copies, files, analytics data, and objects. DataPlatform provides distributed storage with best-in-class space efficiency, efficient copy data management, and native cloud integration. The platform incorporates data management functions for converged data protection, in-place analytics, and copy data management to automate DevOps workflows
Pure Storage - All-Flash Enterprise Storage
Allows customers to deliver real-time, secure data to power their mission-critical production, DevOps, and modern analytics environments in a multi-cloud environment.

"Once the Pure Storage array was installed, everybody started to see the benefits. In fact, we saw improvements in areas that we didn't expect……….The three words I'd use to describe Pure Storage are simplicity, performance and partnership."
MATT HARRIS, HEAD OF IT
MERCEDES-AMG PETRONAS MOTORSPORT
Pure Data-Centric Architecture provides all the storage services you need – block, VM, file, or object – to consolidate everything. Power your databases, virtual machines, containers, analytics, and webscale apps, with effortless all-flash shared accelerated storage performance and enterprise-grade availability.
EFFORTLESS
Pure solutions are always-on, always fast, and always secure. They're self-managing, and plug-n-play simple. They're also cloud-connected, giving you the agility of cloud-based management, predictive analytics, and unrivalled support and protection.
EFFICIENT
Our software-defined storage is always efficient. We save you 10x on space and up to 10x on flash while consolidating all your tiers and workloads. And we deliver that efficiency via zero compromise data services that are fully automatable and extensible for self-service consumption.
EVERGREEN™
Get increasing performance and savings every year. Buy once, and your SaaS-like subscription to software and hardware innovation delivers next-gen storage breakthroughs, like the 100% NVMe//X, without disruption, downtime, or data migration.
Pure Storage Hybrid Cloud
Compuverde - Software-Defined Storage
Simplifying how data is stored and, importantly, how it is managed
"impressive to see terabytes of data
being rebalanced to one node in just hours,
simultaneously maxing out all drives in a storage node"
Co-founder and Director of IT-Infrastructure, Istudios Visuals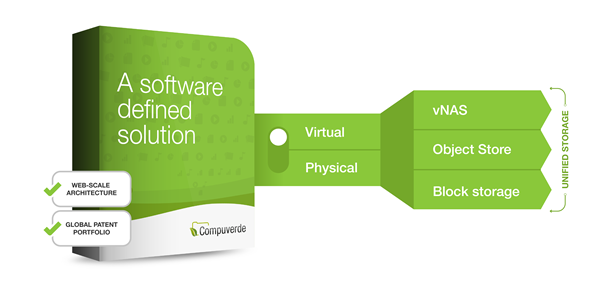 With Compuverde vNAS and Hyper-converged Storage, you get a fully integrated and flexible storage solution completely built upon software-defined principles. This results in an offering with a single file system spanning over all servers, providing full horizontal cache synchronization and delivering extreme performance, scalability and reliability – all with your existing hardware setup of choice – opening up for scaling towards exabytes of data. Regardless if that setup includes standard or premium class servers, solid state disks and more.
The Compuverde proposition is based on web-scale architecture delivering scale-out NAS as well as Hyper Converged Storage for virtualization:
Scale out of virtual machines without compromises with a web-scale solution
Start small and grow beyond today's needs with software-defined storage
Intelligent use of cache through flash storage compatibility
Full hypervisor compatibility (VMware, KVM, Hyper-V, Xen)
Multiple protocol integration (SMB 1/2/3, NFS 3/4/4.1, iSCSI, OpenStack Swift, Amazon S3)
Scalability & Flexibility
Maser NetworkiQ
Manage your data network more intelligently for better visibility, optimisation, security, profitability and user experience
Maser are delighted to announce that we have extended our Zero-Trust Security portfolio by adding Okta, Inc. for Identity Management Okta is the leading independent provider of identity for the enterprise. The Okta Identity Cloud enables organisations to both secure...
read more
Sydney Head Office
a: 9/15 Rodborough Rd
Frenchs Forest NSW 2086