The Smart Aligner is the smallest and most powerful Antenna Alignment Tool on the market. Compact design, exceptional performance, multiple configurations and smart phone enabled makes it the smartest choice for aligning your antennas.
The incorporated GPS technology and sophisticated sensors calculate Azimuth, Tilt, Roll, Location and AGL of an antenna under the most demanding conditions.
Smartphone Enabled
Measure, verify and save alignment data using our free App (iOS and Android)
Create and send PDF reports wirelessly from your mobile device
Include up to four photos for each antenna in the report
Import and export site data directly to and from App
Microwave Azimuth Path calculator
On-board storage for alignment results
To learn more click to download the SmartAligner Datasheet.
Passive Intermodulation Analyzers
Passive Intermodulation Analyzers (PIA's) from Rosenberger facilitate quick and accurate measurement of the intermodulation characteristics of passive components, such as connectors, cable assemblies, antennas and filters. Precise analysis of the quality of mobile communication infrastructure is also possible.
Rosenberger Passive Intermodulation Analyzers can be customized according to specific requirements by realizing modularized assemblies and cost reductions. Furthermore, Rosenberger provides technical support, product training, calibration as well as maintenance on site.
Rosenberger's updated range of Passive Intermodulation Analyzers (PIA) includes Rack and Desktop versions, as well as PIM Site Analyzer alpha. Terminations, adaptors and test cables complete the product portfolio. All analyzers are offered for measurements in various frequency bands.
Click on the following items to download:
PIA Catalog
PIA alpha Flyer
PIM Site Analyzer Alpha
Rosenberger presents its brand new broadband passive intermodulation analyzer "PIM Site Analyzer Alpha" for multi-function on-site tests and measurements of active and passive elements – whether outdoor or indoor systems, RF or Fiber Optic. The new analyzer features PIM detection over CPRI and offers exchangeable filter units.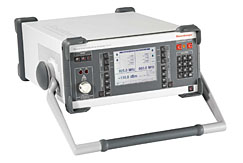 Desktop Analyzer
Desktop Analzer has been designed for laboratory and manufacturing applications to quickly and accurately measure the intermodulation characteristics, as well as on tower mounted devices, e.g connectors, cables and other passive components. The transportable PIA can also be used for a precise analysis of the RF infrastructure quality and performance of radio base stations and operates in LTE 700, AMPS, EGSM, DCS, PCS, UMTS, UMTS II / LTE / BRS-EBS and WiMAX frequency bands. They are delivered in a highly shock-proof, stable transport case. 
Rack Analyzer
Rack Analyzer with broadband amplifiers, exchangeable filter units and multiplexers, are specially designed for the use in production lines to measure the 3rd, 5th and 7th order intermodulation, but they also can be applied in R&D, laboratory and calibration centers. Rack types are available as "reflected" types or "reflected & transmitted" types, which operate in LTE 700, AMPS, EGSM, DCS, PCS, TD-SCDMA, UMTS II / LTE / BRS-EBS and WiMAX frequency bands. 
Sydney Head Office
a: 9/15 Rodborough Rd
Frenchs Forest NSW 2086